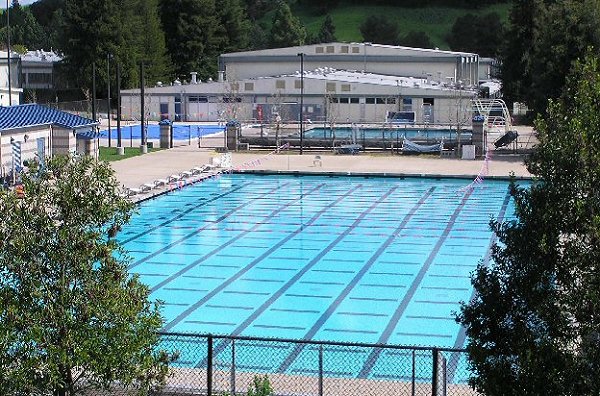 by Rick Langenberg:
Unless an emergency raft is dispatched, plans for an $8.3 million aquatic center in Woodland Park, equipped with a variety of pool areas and spree of amenities and even a full-scale bowling alley, will face a sure political drowning. Woodland Park elected leaders, although praising a new feasibility study done by the Woodland Aquatic Project (WAP) board, left the aqua center proponents last week buried under water and gasping for breath with little hope for life.
During an emotional workshop on Sept. 20, the Woodland Park City Council made it clear that they can't open up the city's purse strings for another cent in endorsing the project without more alternative funding outside of city hall and more concrete plans. In fact, most council members gave the idea of funding a $10,000 professional business plan for the project the thumbs down. "Personally, I think it would be irresponsible," said Woodland Park Mayor Dave Turley, in expressing his opposition to spending any more taxpayer money regarding the aquatic center. He emphasized that he needs a lot more information and continued to raise the question, 'where does the money come from'? "The Woodland Aquatic Project is not the only thing on our agenda," blasted Turley. "We are caretakers of the citizens' money." "We don't live in a healthy economic climate," added Councilman Gary Brovetto. "There are a lot of unknowns here. If it (the future aquatic center) was such a great idea, why doesn't a private enterprise do this." Similar comments were echoed by other city leaders, who complimented the group for their work, but were hesitant to support a full-fledged aqua center with significant funding from the city government. They even shied away from spending another cent on a professional business plan, the next proposed step in the process advocated by the WAP board. That's not the type of victory swimming lap the aqua project board sought. In their initial plan, they proposed a project that calls for a $436,305 annual contribution from the city's general fund.
The group also proposed annual personnel costs of $256,000, with a center director, an assistant director, a number of lifeguards and a front-desk person. The overall project, planned to be constructed in Memorial Park, would cost $8.3 million in capital expanses and may include a bowling alley. On the upside, their plan had the aqua center project making an annual profit of $37,220. The group's plans are part of a rough feasibility study, following a community forum last June. At that time, center leaders expressed a desire for more financial involvement from the Woodland Park government, in the form of issuing bonds for the project. Wait a second However, the idea of nearly $500,000 in annual funding from city hall had virtually every member of the city council prepared to drown the group's bid almost immediately. "That is a huge risk," stated Councilman Eric Smith, in describing the allocation of this amount of money. Even if the city has an extra surplus, he stated that most citizens want to see this money spent on paving roads, handling drainage and completing needed infrastructure. "The money doesn't exist right now," explained Councilwoman Carrol Harvey. She suggested that the group amend its proposal from $436,000 in city expenses a year to zero. "I am spending money on something they don't want," added Councilman Terry Harrison, in reference to a previous bid for a YMCA center that was highly rejected by the voters in an election several years ago. "How do I justify that?" At the same time, several council members said they would love to see Woodland Park get an aqua center.
Smith suggested that the group consider a property or sales tax hike to raise the funds to finance the project. "That is the democratic way to do it. Maybe it takes more elections," said Smith. Although this path hasn't been successful in the past, he argued that an aggressive pro-aqua center campaign has never been orchestrated in Woodland Park. However, this "we can't support your project" stance raised the ire of Councilman Bob Carlsen, who serves on the board of the Woodland Aquatic Project. He and other board member cited statistics demonstrating that most aqua centers in Colorado were supported by public funding. The WAP members mentioned a number of centers in communities that are quite comparable to Woodland Park. Carlsen said he believes that the Woodland Park government definitely has the money to support the project. And Gerry Simon, the main leader of the group, hinted that Woodland Park faces a sense of urgency. "Our families are dwindling," said Simon.
During an earlier meeting last summer, Simon labeled the aqua center as a way to re-energize Woodland Park as a "family-friendly city. We believe the center is going to be a gem for the city. It is going to be a selling point and centerpiece." At the close of last week's workshop, Simon made a final pitch for the city council to at least approve $10,000 in funding for a professional business plan for the aqua center. "We need to have a professional look at it," explained Simon, in describing the next logical step. But the council wasn't in the mood to use taxpayer monies to dive into the pool project, even from a planning stage. They suggested the group get business plan funding from alternative sources. But WAP board member Connie Joiner, a former Teller County clerk and recorder and treasurer, cited the many hours a group of volunteers have invested into the project. "Somehow, we need something from the city," said Joiner. Both Joiner and Simon noted that unless they receive some type of positive signal from the city, the project will die. "If the city is not going to be behind this, they (potential donors) are wasting their money," said Simon. That positive signal didn't come last week, but city leaders vowed to revisit the issue, especially with budget season approaching.